Breaking news — international newspapers are readily available for readers here in the United States and bring with them numerous benefits.
Reading international newspapers cultivates a better understanding of geopolitics, finance and foreign policy. Delving into these publications also connects you on a deeper, substantive and ultimately human level to people across the world.

Don't just take our word for it. Read on to learn why finding and supporting international news is more important than ever, plus how you can get new favorites from far-flung corners of the world delivered right to your favorite reading nook.

The Importance of International News
Just over 60% of Americans will consume news from a newspaper over the course of a week. Another 33% say they enjoy staying tuned into the news throughout the day, reading, listening and watching for trending headlines as they break.
International newspapers offer a unique perspective on the most pressing issues of the day. Weekly and daily subscriptions to just one foreign publication provides a valuable opportunity to inform your beliefs, rather than remain narrowly immersed in American (and only American) perspectives on political, economic, social and cultural issues.
Plus, top international newspapers cover the same range of topics as U.S. papers, often in English. Coverage includes:

World news
Domestic news (for that country)
Editorial/opinion columns
Features stories
Sports
Comic strips/illustrations
Additional entertainment sections
In general, it's important to read newspapers to keep tabs on the defining issues of the day from sources outside your immediate bubble. Yet perhaps most critically, international newspapers offer a respite. As more and more Americans feel the country slipping deeper into a polarized media landscape, publications from other countries pull back the lens, reminding us of the depth, breadth and nuance behind many of today's top stories.
Why Read International Newspapers?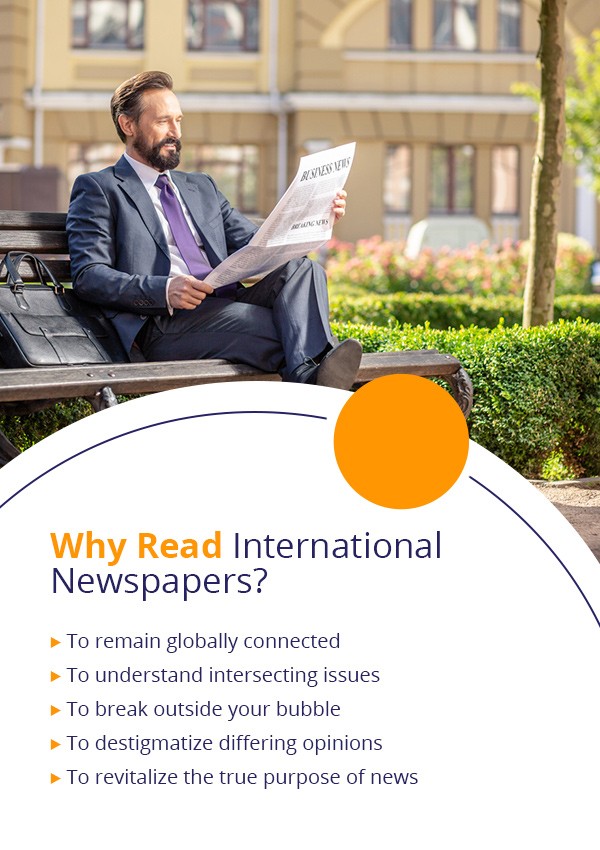 There is a litany of reasons to get your hands on international news publications. Here are our top five:
1. To Remain Globally Connected
The modern world is more connected — and connectable — than ever. A few keystrokes can give you instant access to any information you want online. Print and digital news brands often lead that charge in delivering answers to queried questions.
In this sense, global newspapers are the way to stay plugged into the international news cycle. Reading foreign news sources is an excellent way to increase your cultural competence — to connect, understand and communicate successfully with people from other backgrounds. Reading the leading newspapers from a particular country will help you better grasp both the facts and opinions informing a popular belief system there.

That global curiosity, combined with informational access, makes you a more aware global citizen, ready to engage with a diverse range of issues with a nuanced sensibility.

2. To Understand Intersecting Issues
In our globally connected world, political, social or economic changes in one country often trigger shifts in another.
This ripple effect can be hidden, though, when you only get your news from domestic sources. Buying foreign newspapers allows you to trace the impact of decisions and events in one country into others.
Issues like foreign elections, trade agreements, monetary policy, emerging technology, humanitarian crises and more all fall under intersectional global issues whose domino effects reach around the world. Understand their causes — and consequences — through international papers.
3. To Break Outside Your Bubble
News today is increasingly polarized. Opinions are packaged and presented in a way meant to capture attention and spark engagement, especially in a digital-first world where media brands fight for subscriptions and clicks.
By reading international publications like newspapers, you gain a direct line to events outside your immediate environment. You'll deepen your understanding of large, global issues as well as learn about topics and happenings you'd otherwise never have known. This is a powerful skill set — and one that seems increasingly difficult to achieve in today's political environment. Thankfully, many of the world's top newspapers are printed in English or have English translations available.

4. To Destigmatize Differing Opinions
Americans are more distrustful of news sources, government institutions and — indeed — of one another than at any other point in contemporary 20th- and 21st-century history.
Fueled by toxic public rhetoric, political polarization and the heated debate behind "fake news," many have come to conflate a differing viewpoint as an automatically "false" viewpoint. As a result, fewer people are inclined to research and listen to others whose opinions differ from theirs.
Foreign newspapers offer a softer, more approachable method to read opposing views, often in a way that doesn't seem designed to attack your own. In that sense, they can help you and others grow more comfortable in plurality and better able to negotiate across differences.
5. To Revitalize the True Purpose of NewS
Citizens in countries outside the U.S. often comment on the sensationalized, emotional presentation of American news stories. Many say the way American news is presented is meant to incite fear, anger, frustration and — increasingly — even apathy.
Likewise, many Americans traveling or living abroad are often taken aback by the matter-of-fact, seemingly "bland" presentation of news across print and digital publications.
News is designed to be the latter and is dangerous when it's the former. At its core, newspapers and international news stories aim to present objective facts, findings and events, then allow civil commentary on its outcomes. By engaging with international newspapers, you reprioritize news as a springboard for informed opinions — not the opinion itself.
Top Foreign Newspapers to Look Into
What are some of the top newspapers in the world? Whether you prefer to read international news focused on business, culture, politics, or some other topic, you are sure to find what you are looking for in at least one foreign news source. Consider this list of global newspapers published in English to broaden your horizons and engage with fresh world stories.
1. The Guardian (England/U.K.)

The Guardian is a London-based compact daily newspaper with widespread international acclaim and circulation.
Known in particular for its investigative work, The Guardian contains a world news guide covering content on every continent. This automatically gives this paper a global lens, yet is especially useful for Americans aiming to break out of U.S.-focused spinnings of world events.
Considered one of the best newspapers in the U.K., The Guardian is great for understanding some of today's most pressing international news, such as Brexit, GDPR, the Paris Climate Agreement, NATO and the European refugee crisis. The paper "remains faithful to its liberal tradition," though not liberal in the American political party sense, but in its textbook definition of presenting broad, factual and nuanced perspectives on trending events.
2. The Economist (England/U.K.)
The Economist is a magazine-format newspaper published once a week, offering in-depth news, business, finance, technology, political and arts commentary from around the globe.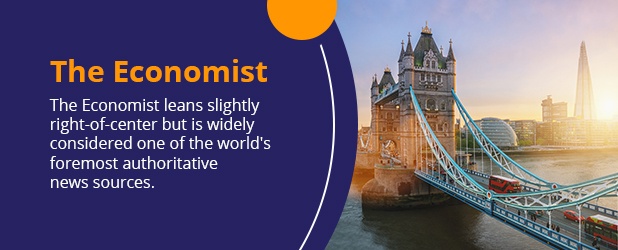 As its name suggests, The Economist prioritizes content connecting issues of commerce, capital and finance, plus the policies driving them. Over 170 years after its inaugural publication, readers are still treated to premiere coverage of the week's top news stories and issues in a magazine format, categorized by continent.
The Economist leans slightly right-of-center but is widely considered one of the world's foremost authoritative news sources. Its editorial philosophy prioritizes independence, objectivity and topicality, and its worldwide pool of writers are renowned for maintaining a high degree of journalistic standards.
3. China Daily (China)
The China Daily is a daily newspaper operated under the Communist Party of China's Publicity Department. Two versions are available to Mitchell'sNY subscribers — the China Daily Global Edition, available Monday through Friday, and the China Daily Hong Kong, available Monday through Saturday.
Headquartered in Beijing, the publication prints English articles covering Chinese and world news events, business, lifestyle and cultural commentary. Interestingly, the newspaper reports a circulation of over 900,000 — almost two-thirds of which is estimated to be internationally distributed.
Readers should bear in mind the paper is owned and produced by China's ruling Communist Party. However, reading the China Daily offers a first-hand glimpse into a premier player on the world stage, providing glimpses into the country rather than filtered second-hand sources.
4. The Times of India (India)
Headquartered in Mumbai, The Times of India is an English-language daily publication with the third largest circulation in the country. It is also the highest-sold English daily in the world, with a circulation exceeding well over four million. It's two top publications include the Mumbai edition and the New Delhi edition, each available via Mitchell'sNY seven days a week.
The Times of India covers political and current affairs across India's 29 states. It also provides substantial coverage of global news in addition to sports, business and a popular Bollywood news and gossip section.
The publication is the second-oldest Indian paper still in print. However, in recent years, its come under fire for being one of the first to institutionalize paid news stories in India. Businesses, politicians and even celebrities can purchase prime, above-the-fold article space to write about topics of their choosing. While The Times of India is far from the only newspaper to practice paid stories, it offers an interesting intellectual exercise for American readers to develop better media literacy skills.
5. Le Monde (France)
France's Le Monde — meaning "The World" — is a French daily evening newspaper available Tuesday through Sunday in the U.S. It is one of France's three official newspapers of record. It is considered the most accessible French news publication outside of the country.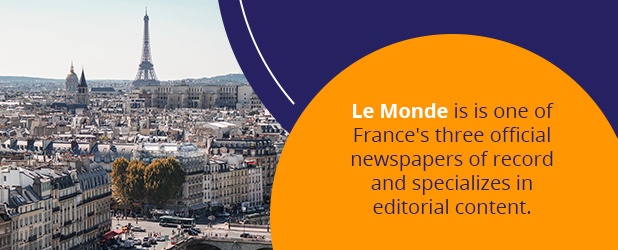 Le Monde specializes in editorial content. Rather than breaking hard news stories, writers delivery opinions and features discussing nuanced interpretations of trending headlines. The paper is also one of the few in the world whose writers are both tenured and voting stakeholders, determining everything from newspaper leadership to financial decisions.
6. Corriere della Sera (Italy)
The Corriere della Sera network of newspapers covers trending world and local news across half a dozen editions, each centered on an Italian metropolitan center, such as Corriere della Sera Roma. Its flagship publication is the flagship-named Corriere della Sera, which maintains a daily circulation of 301,468 copies. The Corriere della Sera is the most-read and newspaper in the country, publishing well-regarded pieces on Italian politics, economy and society.
7. Globe and Mail (Canada)
Based in Toronto but printed in five city editions across central and western Canada, The Globe and Mail is widely regarded as Canada's newspaper of record — that is, its most authoritative news source. Printed Mondays through Saturday, it is the nation's most commonly read weekday paper, falling only behind the Toronto Star in total circulation because of the Star's popular Sunday edition. (The Globe and Mail does not produce a Sunday edition.) Recent industry data shows that weekly readership exceeding 2,018,000 copies, one of the strongest in North America.
8. Asharq Al-Awsat (Saudi Arabia)
Headquartered in London, the Asharq Al-Awsat is a pan-Arab daily printed on four continents and famous for its signature green-tinted paper. Self-heralded as the "premier" pan-Arab news publication in the world, it maintains one of the largest circulations for both off-shore and domestic Saudi Arabian newspapers and was the first Arab newspaper to use satellite transmissions for instant, simultaneous paper printing across its regional sites around the world.
Asharq Al-Awsat is owned by a member of the Saudi Royal family. Its coverage leans conservative compared to rival Pan-Arab publications, particularly when discussing geopolitical dealings, the Saudi Arabian royal family and the country's government ministers.
9. The Daily Telegraph (U.K.)
The Daily Telegraph is one of the U.K.'s most prominent daily broadcast newspapers and is viewed by many as one of the region's newspapers of record. It maintains prominence across its two editions — the weekday Daily Telegraph and its sister publication, the Sunday Telegraph — with the former's circulation around 363,183 copies and the latter Sunday-only distribution around 281,000.
The Telegraph brand maintains the highest circulation rankings of all U.K.-based broadsheets and the sixth-highest circulation of all U.K. newspapers. The Telegraph's coverage is said to lean conservative-right.
10. Frankfurter Allgemeine Zeitung (Germany)
Known as FAZ for short, the Frankfurt-based Frankfurter Allgemeine Zeitung is a center-right-leaning daily newspaper with German and English content covering politics, sports, finance, economics and culture. Alongside its popular weekday edition, the brand also produces the Sunday print called the Frankfurter Allgemeine Sonntagszeitung, or FAS.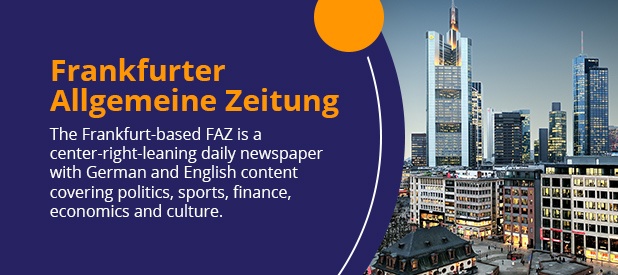 FAZ owns and operates its own international correspondent network as well as a unique, four-editor cooperative dictating editorial policies. It is the widest-circulated German newspaper abroad, with claims of delivery capabilities in 148 countries making it simpler to source than other international publications.
How to Buy Foreign Newspapers

There are many ways for you to get your hands on an international newspaper. The most convenient method, however, is to subscribe to a foreign publication delivery service.
1. Research Local Delivery Services for International Papers
Foreign publication delivery services operate in most major U.S. cities, bringing foreign publications to your area.
In addition to providing subscription access to a wide range of American newspapers and magazines, these companies also carry top international newspapers as well. You can consolidate your entire print news subscription preferences from one provider. It's an easy and intuitive place to begin vetting reputable international news sources from any continent.
2. Look Up Its Delivery Range
Top foreign newspapers often maintain print and distribution centers around the world. This allows for international subscribers thousands of miles away to enjoy the same daily news coverage they would get back in the paper's home country.
Delivery ranges will vary based on that foreign newspapers' print and distribution network. Generally speaking, the closer you are to a major U.S. city, the likelier it is you have access to daily international newspaper deliveries.
3. Compare Packages
Evaluate subscription packages and delivery schedules. Even if a foreign newspaper prints daily broadsheets, you may only be interested in its Sunday edition or a weekly delivery on a select day. Some may even allow you to customize delivery schedules.
Because you're working with an international delivery service and not the paper itself, you may also receive additional subscription perks. For example, your newspaper delivering service may also be able to deliver coffee or breakfast pastries with your morning edition. If that doesn't help you get out of bed in the morning, we don't know what will.
4. Finalize Your Subscription
Tweak your subscription preferences, double check your delivery address, then viola! With a few clicks, you've just brought the world to your doorstep.
Request an International Newspaper Quote

Wake up to your international newspaper waiting at your doorstep.
Mitchell'sNY international newspaper and magazine service helps you start your morning off right. We're a New York City born-and-bred delivery service bringing your favorite publications to you quickly and conveniently — plus a few extra doorstep goodies. Get your day going with an international newspaper delivered to your door at competitive and convenient rates.International newspapers offer a unique perspective on the most pressing issues of the day. Weekly and daily subscriptions to just one foreign publication provides a valuable opportunity to inform your beliefs, rather than remain narrowly immersed in American (and only American) perspectives on political, economic, social and cultural issues.