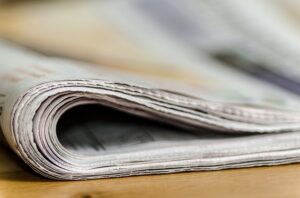 Who says the Internet has killed the newspaper industry? Not our clients, that's for sure! Our New York customers love the traditional feeling of browsing daily papers with their morning tea, coffee or juice. They know no touch screen can recreate the tangible excitement of flipping through crisp newsprint pages to discover what's happening around the block … or around the world. At Mitchell's NY, we deliver the most well-known newspapers, including many from foreign sources. Here's a roundup of our most frequently requested newspapers:
The New York Times – Does any newspaper shout "I love New York" more than this one? The New York Times has been around since it was first published in 1851, and it's been going strong ever since. You'll find everything you need to know within the pages of the Times — from culture to finance, it has it all. No wonder it's on our "uber-popular" list!
The Wall Street Journal – At the end of the 19th century, The Wall Street Journal hit newsstands. Since then, it's become ubiquitous with success. Every serious professional needs a subscription to this daily. Plus, the weekend sections of reviews, editorials, travel and leisure are second to none.
Daily Telegraph – Founded in the mid-1800s, the Daily Telegraph provides readers with info from "across the pond". Make no mistake, though, this United Kingdom-based newspaper is just as applicable for Americans as it is for Brits!
Washington Post – Want to get a handle on what's happening in our nation's capital? The Washington Post is the go-to daily for all things political. Its journalists are highly trained to give you a bird's eye view — and sometimes a view from inside the nest! — of what's happening in and around the White House
Investor's Business Daily – This newspaper has made an enormous contribution to the investment world since its inception in 1984. For three decades, it has helped savvy investors make smart decisions with their wealth. Who wouldn't want a little help when it comes to expanding capital?
New York Post – From the infamous Page Six, to fashion, tech and metro news, this paper in both print and online is hard to beat! With its fast-paced stories and tongue-in-cheek commentary, it's no wonder why many pick this up hot off the press faster than a New York minute.
What's your favorite newspaper to read over a warm croissant or toasty bagel? Make sure you have it in hand before your butter melts by ordering delivery from Mitchell's NY. (photo via)