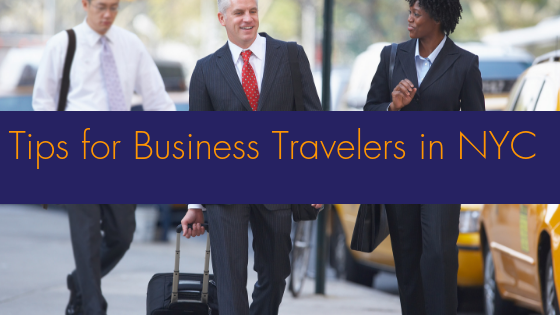 New York City welcomes all kinds of travelers every day. Millions of people from all over the world come to the city for vacations to enjoy the sights, shopping and unique cuisine. You might travel here if you have family in the area, but a big push that gets people to this urban hub is business travel.
If you work for a large corporation, you may be the one who visits its different offices. Or perhaps there's a large convention or trade show your business wants a representative to attend. Whatever the reason, planning a business trip to the Big Apple can be a little bit overwhelming — especially if you aren't familiar with the city.
Here are some tips for making your next business trip to NYC even better:
Know Your Travel Budget: Talk to your supervisor as far in advance as possible about your travel budget to see what you can spend on your accommodations, food and transportation. You don't want to make all your plans only to learn you overspent on your hotel room and will have to pay for it out of pocket. Make sure you save receipts so you can be reimbursed, too.
Be Smart With Transportation: When you're traveling within the city, it may be tempting to take a cab to most places. Taxis may seem like the easiest option, but they may make you late if you encounter traffic — and you probably will. Don't be afraid of public transportation. The subway is inexpensive and may actually get you to your destination faster than taking a taxi.
Pick the Best Accommodations: If you're attending a conference, it's likely that they reserved a block of rooms in the same hotel for attendees. Even if there are less expensive accommodations somewhere else, it won't be as convenient, and you'll likely spend a pretty penny just traveling from the event space to your hotel room. Many hotels in NYC cater to business travelers. You can also consider alternative accommodations to save money, like booking an Airbnb.
Try Something New: One of the best parts of being in New York City is that you can do and see things that you can't anywhere else. If you usually skip breakfast, stop by a local diner — there's probably one not too far from you. You could also head to an art museum that has an exhibit of a style that you know nothing about. Your time off will help you relax and prepare for your next day of meetings, presentations and networking.
Take Time for Yourself: Even if you're only in the city for a short time, be sure to take a break. Making the trip entirely about business will burn you out. If you love theater, make sure you see a Broadway show — or at least an off-Broadway production. If you're a foodie, check out that hot new restaurant you've read so much about. Even if you don't have a lot of free time, try to stop in the hotel's gym for a quick workout or sit on a bench for a few minutes to people-watch, seeing what New Yorkers are up to.
Feel at Home: Mitchell'sNY can deliver dozens of magazines and newspapers…from around the world. Mitchell'sNY is a Long Island City-based company specializing in personalized service.  Whether traveling from Canada, Germany, France, or anywhere else, business men and women can get their local news delivered right to their hotel room! For updates about The Big Apple, travelers can enjoy flipping through the pages of The New York Times, The New Yorker and Time Out NY. To inquire about a publication, call 1-800-662-2275 or visit the website to view the international magazine or newspaper