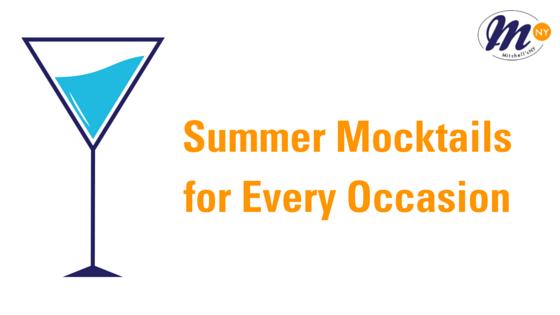 Everyone loves summer, but let's face facts. With New York's oppressive humidity and frequent heatwaves — not to mention the brutal conditions in Manhattan's underground subway stations — staying cool is a top priority. Why not make hydration more interesting with a delicious summer-themed, non-alcoholic mocktail? Here are a few ideas!
Blood Orange Basil Mocktail
Make room for blood orange, the zesty citrus fruit that's flavorful and colorful. This recipe calls for distilled water, but why not go fizzy and replace it with San Pellegrino's Aranciata Rossa? Fresh basil and lime juice are absolute musts, though. For simple syrup, heat equal parts water and sugar over low heat until clear.
Mango Margarita Mocktail
With mango juice, grapefruit juice and freshly grated ginger, the mango margarita mocktail is the perfect non-alcoholic alternative for your tropical-themed bash. Add fresh raspberries or strawberries for texture, plus healthy dietary fiber. Prefer to cut the sweetness? Add Boylan's Heritage Ginger and keep the zesty flavor.
Arnold Palmer (With a Twist)
Lemonade and iced tea combine in this refreshing summer classic. Mix equal parts Arizona Raspberry Iced Tea with 100% lemonade for a new twist, or skip the prep altogether and just go straight to the source: AriZona's Arnold Palmer. If you want to kick it up after the sun goes down, blend equal parts lemonade with Firefly sweet tea vodka — delicious.
Flight of the Concords
Fans of the cult HBO series will appreciate Flight of the Concords, which features an intriguing blend of juniper berries and concord grapes. This visually pleasing beverage calls for fresh orange juice, tonic and club soda, but you can cut the sweetness with orange seltzer. Opt for Canada Dry's version, which club soda connoisseurs insist is the absolute best.
Watermelon Lime Sod
Who doesn't love fresh watermelon? This incredibly refreshing beverage, garnished with mint sprigs and infused with fresh ginger, is sure to satisfy a crowd. If you're not in the mood to make simple syrup and grating fresh ginger is just way too much effort, pick up some Gosling's as a suitable replacement. Sweetly satisfying, you're sure to make Gosling's Ginger Beer a regular part of your drink repertoire.
There's lots more hot weather to come, so enjoy!