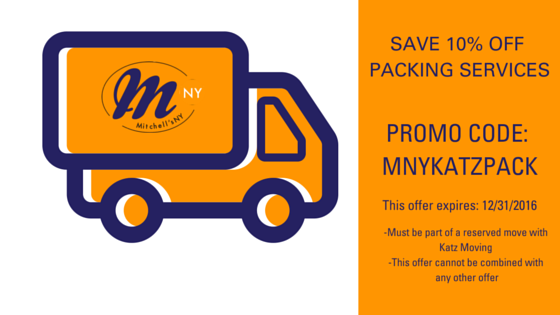 Moving – ugh. Who wants to deal with the hassle or the expense? Katz Moving can take the sting out of your next move, whether it's across town or throughout the east coast. Plus, with our 2016 moving promo code MNYKATZPACK, you can save 10 percent off packing services plus gain access to the company that makes customer care, transparency and sustainability our top priority! Just remember to use the promo code before 12/31/16.
Rethinking the Way We Relocate
Founded by Jon Katz in 2012, Katz Moving is rethinking the way we relocate. When you work with us you'll get the consumer protections that accompany choosing a moving company that's fully licensed by U.S. and NYS DOT for household goods moving and general property moving services. Hire us and we'll take the stress out of your next move, leaving you to focus on the fun parts of relocating. Redecorating, anyone?
Katz Moving Offers a Full-Service, Eco- and Pet-Friendly Experience
Unlike other movers, when you choose Katz Moving we'll make sure we take care of you, your family – even your furry family members – and the environment. Katz Moving only uses eco-friendly packing materials. We even submit estimates and contracts online to save on paper and to keep you from having to track important documents while you're trying to pack. When you hire our trained movers, we'll do everything possible to take the stress out of your relocation. No job is too big or too small. From full-service packing, moving and unpacking to transporting a few items into storage, Katz Moving will give you peace of mind throughout the entire process.
Worried about your pet? You should be, because moving can stress even the most laid-back furry friend. Katz Moving cares about your pet and will go out of the way to make your move as painless as possible. We've helped even the most anxious pet owners and their animals move safely and securely with some of the most experienced pet transport agencies in the city. Take one important item off your to-do list with Katz Moving.
The Quality Control Experts
A stress-free move means having procedures in place to ensure the process goes as smoothly as possible. Katz Moving specializes in communication and transparency between its customers, estimators and moving crew. Pricing is all-inclusive, with no hidden or last-minute fees, and it includes a comprehensive on-site inspection to ensure everything arrived in one piece. You can also keep your eye on your belongings at any time using the Track My Truck and Stuff Cam features. Avoid unwanted, last-minute surprises with Katz Moving, where our trained professionals will transport your belongings safely and securely. Should you need storage as you wait to occupy your new space, let us know. Katz Moving can pack and transport your boxes and furnishings into secure, climate-controlled storage, and then place them in your new location as soon as it is ready. Just ask!
Katz Moving Is a Proud Partner of Mitchell's NY
Katz Moving is a proud partner of Mitchell's NY, and we offer periodic discounts and other deals on the company's services. Keep checking this page for the latest updates, or call our customer care team directly for more information.
Move Different with Katz Moving.