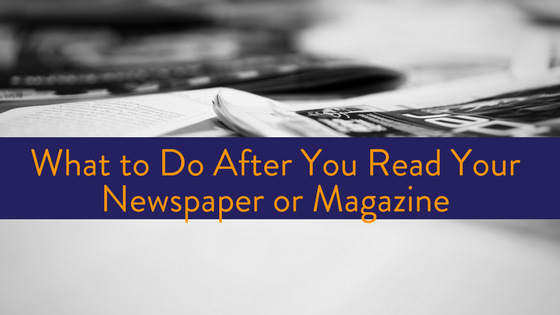 What to Do After You Read Your Newspaper or Magazine
There's nothing quite like sitting down at the kitchen table with a warm cup of coffee and your favorite newspaper or magazine, especially if doing so is part of a leisurely weekend when you have nothing pressing to do. For many, the smell of morning coffee is intoxicating and the literature you read in your breakfast nook is captivating. This quiet time with your cup of joe and great reading material is just what a lot of people need to start the day off right.
As the saying goes, all good things must come to an end. Unfortunately, this is certainly the case when it comes time to pop your bubble of serenity, put down your newspaper or magazine and discard your coffee dregs. While those activities are sure signs quiet time has come to an end, looking around your living space and seeing stacks of old newspapers and magazines littered all over is all you need to come crashing back to reality…hard.
The Aftermath
Even if the mounds of periodicals scattered throughout your place would make it easy for a casual observer to mistake you for a hoarder, you don't have to turn away from your older periodicals in the aftermath of your morning Zen-like retreat in shame. Instead, you should embrace your stacks of newspapers and magazines with pride and recognize them for what they are — an opportunity for you to do some good.
Did you pick up a magazine in the waiting room the last time you went to the doctor's office? If so, you may have noticed that the name and address of the periodical's original recipient were struck out so that the information was unreadable. That was probably done because someone who loves magazines as much as you do donated the magazine to your doctor's office.
You can follow the lead of that good Samaritan and donate your older magazines to doctors' and dentists' offices. If you have some left over, consider giving them to a nearby nursing home, retirement community or shelter.
While magazines typically have information that's relevant for longer periods of time than daily newspapers, you can still do some good with your old newspapers. Many animal rescues will line crates with newspapers to keep their furry inhabitants warm and comfortable. Reach out to the animal rescues in your area and see if they can put your old newspapers to good use.
If you can't find anywhere to donate your old magazines or newspapers, recycle them. When you recycle your old reading material, you're helping to protect the environment. You're also preventing recyclable materials from ending up in a landfill or collecting dust in your living space.
Contact Mitchell'sNY
To enjoy newspapers and magazines during your morning quiet time, you have to acquire them from somewhere! Thanks to Mitchell'sNY, you can have your favorite periodicals delivered right to your doorstep as often as you'd like. Contact Mitchell'sNY to make delivery arrangements today!