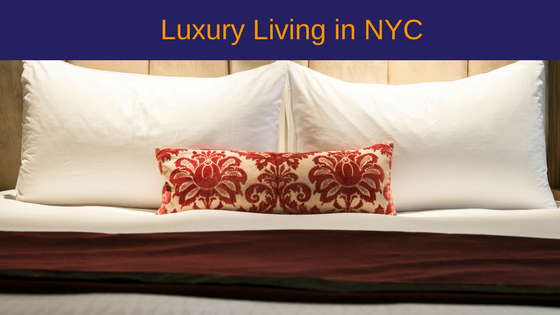 Are you looking to move to New York and are curious about the best locations for luxury living? While we may not all have the budget for the "1%" lifestyle, that doesn't mean we don't want to take a peek at just how exceptional and luxurious living in NYC can be.
Leafing through this glossy magazine is a voyage to a part of NYC we don't get to see every day. These are the kinds of listings that attract movie stars, celebrities, successful businesspeople and millionaires and billionaires from around the world. Think about it: You'll be perusing the same types of NYC properties as your favorite movie stars, athletes, politicians and foreign personalities!
New York is a dynamic city where things are always changing. That said, there are some areas that always attract the wealthiest customers looking for a luxury residence, including:
TriBeCa: The "Triangle below canal" area has a name that is synonymous with luxury. That's why many stars and celebrities have made TriBeCa their home. This appealing area combines residential buildings with many great restaurants, shops and bars, making it the perfect luxury playground.
Flatiron District: This historical district has taken on a new image as a high-tech pole, the NY equivalent of Silicon Valley. Many start-ups and tech firms are based here, and their wealthy owners and employees have made the Flatiron District their luxury living headquarters.
Carnegie District: Less "nouveau riche" and more "old-school money," the Carnegie District has an architectural richness that's hard to beat. If you can afford a home here, you'll be rubbing shoulders with some of NYC's most elite citizens as you enjoy your morning coffee at one of the chic cafés in the area!
Lennox Hill: As you can imagine, any district in NYC that borders Central Park is going to be highly sought-after by luxury customers looking for an oasis in the city. Lennox Hill has its share of more affordable places mixed in, which gives the rich and famous a chance to see how the other half lives!
Union Square: This is where you'll find a large concentration of young professionals. They love being able to live in a luxurious dwelling surrounded by excellent cultural spaces, high-end dining establishments and unparalleled nightlife venues. Union Square is the place for vibrant luxury living in NYC!
These are just a few of the wonderful locations that offer the top-end luxury living experience New Yorkers love. Luxury Listings NYC will keep you up-to-date on the best luxury properties in the city. Thanks to our valued partnership with Luxury Listings NYC, Mitchell'sNY is able to offer you great deals on subscriptions and advertising opportunities.
As a one-stop service company, you can count on Mitchell'sNY for many handy service needs, such as newspaper, magazine, food and beverage delivery along with a host of other great services. Give us a call today and speak with one of our friendly team members, and we can get you a step closer to luxury living in NYC!