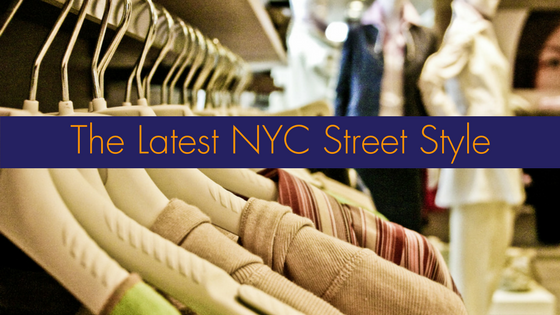 What makes NYC street fashion so compelling? For many it's the diversity of style, silhouette, and substance. When it comes to street style and expressing yourself, you really can't go wrong. That is, you can't go wrong unless you're still following last year's fall fashion trends.
Fall Fashion Trends
When you express yourself with your very own street style, you want to be turning heads for the right reasons, not the wrong ones. To do so, you need to incorporate some of the latest fashion trends into your wardrobe.
To make sure people view your outfits as chic instead of depressingly bleak and outdated, here are some style trends you should work into your attire this year:
Volume: The 1970s and 1990s have heavily influenced fashion in recent years. This year, the 1980s will have a big impact on street style — and that means volume will be the name of the game. From oversized blazers to large shoulder pads and more, it's all about volume this fall and winter.
Velvet: Velvet was used on more fashion runways back in the spring than not, so it's only natural this fabric will be used heavily in a lot of fall and winter clothing in 2017 and the beginning of 2018. While you may think of the same old colors when you think of velvet, it's likely that you'll see plenty of jewel-toned shades this season.
Sleeves: Big, bold sleeves are in this fall and winter. With the emphasis that's been placed on the shoulder in recent years, it's only natural that fashion's focus shifted a bit southward this year and brought sleeves back into prominence.
Silver: You won't be able to escape having silver clothes in your closet if you want to keep up with street style this fall and winter. In fact, having just a silver blouse or pants might not be enough for you to look like you're up to date with the current fashion trends. To look chic, consider putting together an entire outfit that includes only silver clothes.
Corduroy: Just like some thought velvet would be hard-pressed to make a comeback in fashion, it wasn't that long ago that many thought corduroy's days on the fashion runway were long gone. Many reputable designers incorporated corduroy into their fall and winter designs for this year, which means corduroy is "in" once more.
Shearling: If you want to wear some fashionable outerwear this year, many of your choices will have shearling. This plush wool comes in a host of shapes and sizes, so you can expect your options to vary widely.
Puffers: If you've always been a fan of the puffer coat, you'll be thrilled to know that it's been revived by fashionistas for 2017. As it is with shearling outerwear, you'll have plenty of choices when it comes to stylish puffer coats.
Track Pants: For 2017, track pants are coming out of the gym and into the nearest night clubs and restaurants. No longer relegated to the workout room during the day, wearing track pants to social get-togethers is now acceptable day or night.
If you want to read about the latest street style trends, contact us at Mitchell'sNY to arrange a one-time or regular delivery of your favorite fashion publications to your location today.