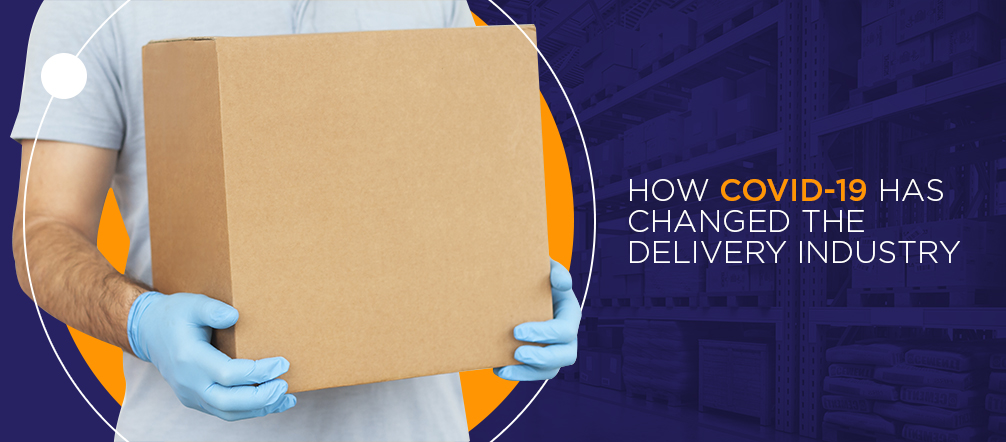 The coronavirus pandemic has profoundly affected our world this year. It has caused many unexpected disruptions, accelerated some existing trends and forced us to make some changes to how we work and live. Some of these changes will likely last even after COVID-19 is no longer a threat to public health. Many of these transformations will be for the better — such as expanded delivery options for consumers and businesses alike. Easier accessibility of goods and services could make everyone's lives run more smoothly.
Explore how COVID-19 has affected the delivery industry — a sector that has seen new trends taken on a greater level of importance during this time.
CDC & OSHA Recommendations for Delivery Services During the COVID-19 Pandemic
Before COVID-19, delivery drivers didn't really need to think twice about things like touching their face or how closely they interacted with customers. In light of the global pandemic, however, the nation's leading experts on public health and work safety have developed some basic guidelines for employees of delivery companies to follow in order to limit transmission of the virus.
CDC Recommendations for Delivery Services During COVID-19
In an article published in April 2020, the CDC laid out some simple guidelines for delivery drivers to ensure their own safety in addition to limiting the spread of COVID-19. Aside from obvious (but still important) measures like staying home when sick, disinfecting surfaces, wearing a face covering, and avoiding touching your face, the CDC emphasizes the benefits of practicing contactless deliveries whenever possible.
Here are some of the main points from the CDC's recommendations for proper contactless delivery services during the COVID-19 pandemic:
Maintain a distance of 6 feet or more from people encountered during delivery

Limit contact with commonly touched surfaces like door bells, door handles, etc.

Refrain from handing your pen, scanner, and other objects to customers

If you wear gloves, wash them between shifts & wash your hands after removing
For more on the CDC's recommendations for delivery drivers during COVID-19, check out the article published on their website.
OSHA Recommendations for Delivery Services During COVID-19
Like the CDC, the OSHA also encourages businesses to practice contactless delivery whenever possible. In a memo published for the package delivery workforce, the following guidelines were laid out for the industry as a whole:
Establish flexible hours & encourage workers to stay home when sick

Minimize interaction with both customers and coworkers whenever possible

Whenever possible, leave deliveries at loading docks, doorsteps, etc.

Promote personal hygiene & provide hand sanitizer if soap/water are unavailable

Discourage workers from sharing or exchanging tools & equipment

Use EPA-approved cleaning chemicals that are labeled for use against COVID-19

Encourage workers to report any health or safety concerns they may have
Check out the official document published by the OSHA for the full details regarding their recommendations for delivery services during the COVID-19 pandemic.
Emerging Trends in Delivery Services for Consumers:
The rising popularity of delivery services is not exactly a new trend. Even before COVID-19 started making headlines, Americans were falling in love with the convenience of delivery services. From 2015 to 2020, the United States' couriers and local delivery services industry increased in market size by an average of 4.7% every year.
Life is busy, and getting a magazine, coffee or bag of groceries delivered to your front door makes your daily routine a little easier. As more people turn to e-commerce sites, food delivery platforms, and other types of delivery services, they are realizing how easy it is to obtain their favorite products and brands without having to leave the comfort of their home or office. Benefits such as convenience and efficiency are what sparked the initial rise to popularity we've seen in delivery services. However, the emergence of COVID-19 in 2020 has generated even more demand for delivery services, and for new reasons.
New Trend: Delivery Services for Safety, Not Just Convenience
As cities locked down to slow the spread of COVID-19, people turned to delivery services as more than just a convenience. It became a means of staying safe and healthy at home without being cut off from necessities like food and hygiene products. In the U.S., the popularity of grocery delivery services increased by as much as five fold during the height of the pandemic.
Those who live in metropolitan centers can also use on-demand delivery services to have newspapers and magazines brought to their door, making it easier to keep up with news and enjoy some entertainment while stuck at home. Enjoying your favorite drinks, foods, or reading materials without needing to risk your health can restore a sense of normalcy during a difficult time.
Emerging Trends in Delivery Services for Businesses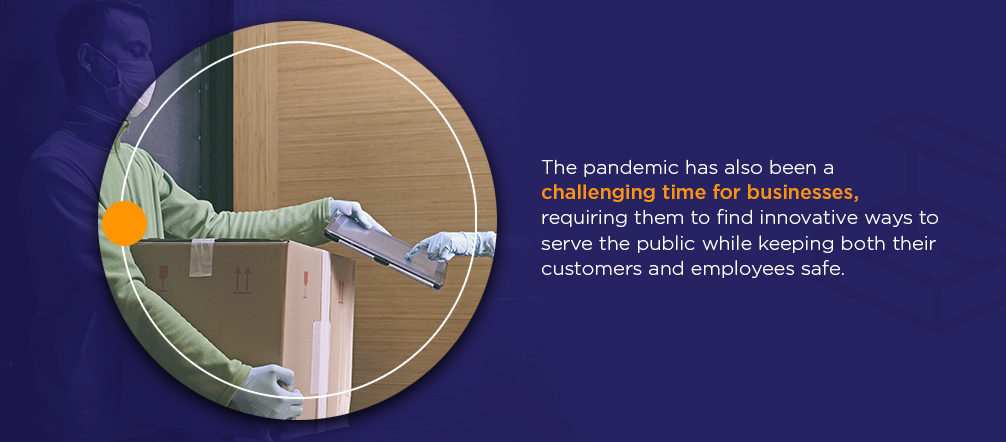 The pandemic has also been a challenging time for businesses, requiring them to find innovative ways to serve the public while keeping both their customers and employees safe. An excellent way to accomplish these goals is by using delivery services.
The Importance of Local Delivery Services for Businesses
Some businesses have chosen or been ordered to close their doors to the public. Of course, these closures can have a profoundly negative effect on companies, forcing them to let go of employees and experience a complete cessation of revenue while still managing ongoing costs. Adding or capitalizing on delivery services has provided some businesses with a means of surviving this chapter of the pandemic. They can continue selling products to their customers without ever letting anyone step foot into their storefront.
Why Some Businesses Now Offer Local Delivery, Even Though They Don't Have to
Even if your business is open for in-store shopping or dine-in service, implementing and advertising accommodations such as contactless or curbside delivery can encourage more customers to patronize your company. Some people, especially those who are more vulnerable and at risk of experiencing serious health consequences from COVID-19, are being extremely careful about avoiding contact with others. Even if businesses they typically rely on are open, these customers may forgo buying their favorite drinks, magazines, meals or other products — unless those companies are delivering — because they need to isolate themselves.
Showing Customers That You Care & Are Willing to Accommodate Their Needs
Offering your customers delivery services provides more than just immediate practical benefits — the advantages go beyond that. By providing delivery to your local clients, you can demonstrate a level of care and responsibility that will likely strengthen customer loyalty and potentially draw in new patrons. Anyone who's looking for a safe option will remember your company and continue having positive associations with your business.
The Importance of Long-Distance Delivery Services for Businesses
Adding long-distance delivery services has also helped some businesses expand their profits and adapt to an increase or decrease in demand for their products.
Taking Advantage of Increased Product Demand With Long-Distance Delivery Services
If you tried to purchase hand sanitizer or toilet paper in March or April, then you've seen firsthand how the pandemic has increased demand for certain types of products. Some other examples of goods that are in higher demand due to COVID-19 are diapers, board games, bakeware, fitness equipment and laptops, just to name a few.
If you sell a high-demand product, you can take advantage of this demand and sell more by allowing consumers to order your products and have them shipped or delivered to their homes. For example, you could use a truck or van delivery service to sell desks to people states away who are looking to furnish their new home offices.
Adapting to Decreased Product Demand With Long-Distance Delivery Services
Many businesses are dealing with the opposite problem — a decreased demand for their offerings. The economy has taken a considerable hit, and many families are forced to cut out or limit discretionary spending. This phenomenon means luxury items may no longer appeal to as many customers as they used to.
The pandemic's effects on people's plans have translated into an especially decreased demand for certain products, such as formal wear, swimwear and luggage. If the demand for your products has gone down, you may want to broaden your market geographically. By offering shipping options to customers across the U.S. through a courier or freight delivery service, you'll have a better chance of selling your goods.
You may also need to invest in supply chain management and warehousing services to equip you to sell to customers far and wide.
The Future of Delivery Services: Will Recent Trends Continue?
It's commonly believed that society will not simply go 'back to normal' once the pandemic subsides, but rather, we will gradually reach a "new normal." We still can't say for sure exactly what this "new normal" will look like, but most people would likely agree that the delivery service trends observed throughout 2020 will factor into the equation in some way, shape, or form.
Will Consumers Want to Go Back to the Way Things Were Before?
Consumers who have recently begun taking advantage of delivery services due to COVID-19 may continue using these services even as the public health crisis dissipates. After all, delivery services are a convenient alternative to driving, walking, or taking public transit to a store and hoping they have what you need. In addition to that process, you still have to carry or transport your goods back to your home. A friendly delivery worker or a package at your door containing exactly what you wanted is a welcomed alternative, and many consumers will likely choose to continue using that alternative for products they normally purchased in person before COVID.
Delivery Services From Mitchell'sNY
Delivery services are more critical than ever for both customers and businesses. If you want to take advantage of the safety and convenience of delivery, Mitchell'sNY can help. We offer our customers fast messenger and delivery services all over New York City. Whether you want home or office delivery for magazines, newspapers, or beverages, Mitchell'sNY can get there in just one hour with what you need. Our Beverage Universe service is especially popular for people who want to get their favorite drinks delivered in bulk.
Mitchell'sNY Logistics also offers a wide range of delivery services for businesses, including courier, van and truck, pharmaceutical transport, white glove delivery, and frozen delivery services, in addition to crating and freight forwarding. Our delivery services extend far beyond NYC. Our logicians know how to get products to their destinations in a way that is both fast and cost-effective, so you can satisfy your customers and increase profits during this challenging time. We can even offer supply chain management, warehousing and facility management services to help your business.
If you have questions about our services, contact Mitchell'sNY to learn more.