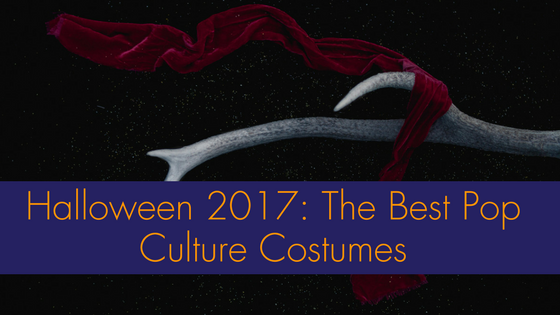 While it might be difficult to believe it's already October, it is! And we couldn't be more excited because October brings Halloween and a bunch of fun-filled holiday parties right along with it.
One of the things that makes Halloween and the weeks leading up to it so much fun is that the holiday and its festivities give you the chance to step into someone else's shoes and pretend you're them, even if it's just for a little while. Whether you want to dress up like your child's favorite Disney character, a famous athlete, a Hollywood star or something else, you can be just about anything you want to be on Halloween. You can even be a building, mailbox, fire hydrant or something even more outrageous.
If you can't think of anything you want to be for Halloween or you're trying to outdo that one person at the office party who always comes up with the perfect costume, you may find inspiration in pop culture. From iconic stars to newer arrivals on the scene, pop culture personalities are memorable and fun to impersonate around this time of year.
Here are some ideas for Halloween costumes taken directly from pop culture:
Wonder Woman
Starring actress Gal Gadot as its lead character, "Wonder Woman," debuted in the United States on June 2, 2017. "Wonder Woman" is the fourth installment in the "DC Extended Universe" series and it's based on the DC Comics' character of the same name.
"Wonder Woman" tells the story of Princess Diana, who rescues a pilot whose plane crashes near her Amazon island home of Themyscira. When the pilot, Steve Trevor, informs the all-female island population about the ongoing World War, Princess Diana leaves her homeland to attempt to end WWI and she makes the masterful transition into Wonder Woman during the process.
From Wonder Woman's timeless body suit, flowing black hair, golden lasso and armor, "Wonder Woman" offers plenty of ideas for eye-catching Halloween costumes. One idea that will probably be overlooked by many is dressing up as the film's modern-day director, Patty Jenkins. Jenkins is the first-ever female director of a live-action, superhero film released by a Hollywood studio for theaters.
Stranger Things
There's nothing quite like the 80s. Luckily, the Netflix hit series "Stranger Things" gives you the chance to show off some subtle 80s flare without making your costume seem dated or out of place. "Stranger Things" is set in the sleepy town of Hawkins, Indiana, where a young boy named Will goes missing in the series' first episode.
After Will's disappearance, things get stranger and stranger in Hawkins. If you're interested in cropping your hair super short and wearing a hospital gown, you'll resemble a character known as Eleven during her first appearance on the show.
Will's mother, Joyce, is portrayed by accomplished actress, Winona Ryder. Obviously tormented by her son's disappearance, Joyce is focused on trying increasingly strange methods to find her child. All you need to complete her ensemble is a flannel shirt, a string of Christmas lights and a piece of cardboard with the alphabet painted on it.
The timing for dressing as a character couldn't be any better than Halloween 2017 because season two of "Stranger Things" is slated to debut on the holiday.
Subway Train Performers
If you frequent public transportation, you've probably seen an assortment of entertainers on subway platforms. From singers to guitarists, dancers, preachers and more, there isn't a shortage of talented characters who entertain the masses every day as they pass through The Big Apple's underground subway stops.
To find inspiration for a Halloween costume that's like no other, visit a few subway platforms. Inspiration is everywhere and that's certainly true when it comes to the city's many street artisans.
If you want to stay on top of what the nation's most iconic pop culture stars are up to, contact Mitchell'sNY to set up a regular delivery of your favorite newspapers and entertainment magazines today.