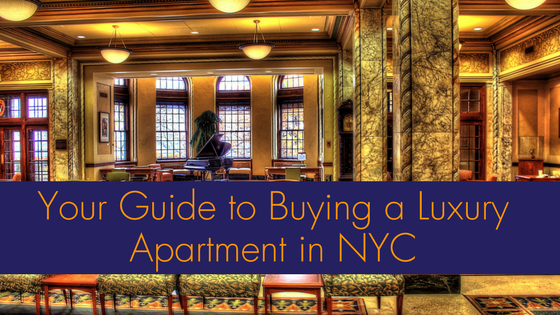 From condominiums to brownstones to townhomes and more, there certainly isn't a shortage of housing options in New York City. One popular option for many homeowners and renters alike is an apartment. If you're going to buy a luxe apartment, though, there are some things you'll want to keep in mind.
Purchasing a Luxury Apartment in the Big Apple
Having a guide or a list of steps you can follow to buy a luxe apartment can make purchasing the home of your dreams much simpler, which is why we've put one together for you. The first step toward becoming a homeowner in NYC is to do some research about the city's real estate market. You can start your research by checking out The Real Deal, an award-winning publication read by most of Manhattan that focuses on luxury apartment and townhouse listings.
While reading The Real Deal is a great place to start, you need to do a few other things before you can realistically expect to buy an apartment in New York City. Here are some additional aspects to consider before you purchase a luxury apartment in NYC:
Your Budget: The price of an apartment in New York depends on a variety of factors, including its size, location, amenities and the condition of the building it's in, among others. Because prices can vary widely, it's important to determine your budget before you even begin looking at apartments. If you're going to finance your apartment, it's equally critical to get pre-approved for a loan by an active mortgage lender before you start hunting for an apartment.
Neighborhood: The next thing you should do is decide what neighborhood you'd like to live in. Do you want to live close to your office or is being near your child's school more important? Are you interested in having a great view of a park, or do you want fantastic restaurants right outside your door? Since you may live in the same apartment for years after you buy it, it's important to make sure the neighborhood where it's located has as many of the things you find desirable as possible.
Features: Just like you'll want the neighborhood where you'll live to have certain things, you'll also want your apartment to have specific features, such as a view of the Hudson River and/or three bedrooms. You need to be realistic about the features you want an apartment to have and understand that every feature will come with a price tag. To help stay within your budget, make a list of the features you want in descending order of importance. Identify the things you must have and those you can still live happily without.
Amenities: Next, you have to decide what kind of building you want to live in. Your choice will be much easier once you figure out the amenities you want your building to have. Some of the amenities that may be important to you include a doorman, a fitness room and a concierge.
Realtor: Finally, you'll need to find a knowledgeable realtor who has a track record of success helping people like you realize their dream of owning a luxe apartment in New York City. Asking people you trust for referrals, especially if they've purchased property in NYC recently, and doing some research online are effective ways to find a realtor you'll enjoy working with.
While finding a realtor is the last step to finding a luxury apartment before you start looking at properties, the buying process starts with you getting a copy of The Real Deal. Contact Mitchell'sNY to have a copy of this revered NY real estate publication delivered to your location as a one-time delivery or on a reoccurring schedule.