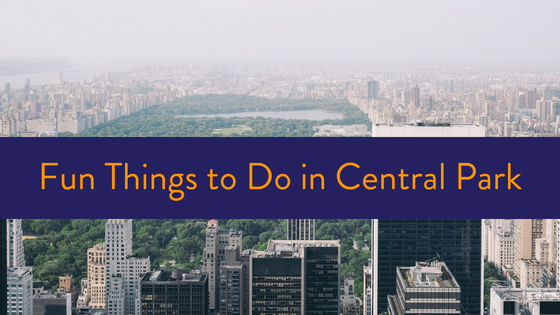 Central Park is one of New York City's most famous places. Whether you're attending a special event or want a break from the busy streets, this green space is the perfect oasis within the city. The landmark is home to many special events throughout the year, like Shakespeare in the Park and free concerts by the New York Philharmonic.
There are tons of different things you can do in Central Park every day, including:
Central Park Zoo: Escape the concrete jungle to experience some real wilderness and other habitats. While visiting, you'll see penguins, snow leopard, monkeys, sea lions and many other animals. The Central Park Zoo is a fun place to bring the whole family — the destination also offers special programs for children of all ages and even adults.
Belvedere Castle: This structure was initially designed with no purpose but to be a unique building for visitors to enjoy views of the park. However, in 1919, the National Weather Service began using Belvedere Castle to collect data. Today, the building is home to several scientific artifacts and tools. It is currently closed for renovations but will reopen in 2019.
Central Park Conservatory Garden: The Conservatory Garden is a six-acre formal garden divided into three separate areas: English, French and Italian. Walking through these unique landscapes, you'll see flowers, trees, shrubs and lots of other plants. The Conservatory Garden is a quiet zone within Central Park, making it the perfect place to unwind and enjoy a lovely walk.
Strawberry Fields: Strawberry Fields is a 2.5-acre section of Central Park that pays tribute to John Lennon, a member of the Beatles. The location for Strawberry Fields was chosen because it was Lennon's and his wife Yoko Ono's favorite place in the park. The Imagine Mosaic, a black and white design to remind visitors of the themes of Lennon's iconic song "Imagine," lies at the center of the area. Adjacent to Strawberry Fields is the Dakota Building, where Lennon and Ono once lived together.
North Meadow Butterfly Gardens: While you stroll through the North Meadow Butterfly Garden, you'll see many different species of butterflies and the plants that help sustain their populations in the city. You'll probably see a Monarch butterfly during your visit — the gardens act as a resting place while they migrate to and from Mexico. This spot is fun for people of all ages to visit.
Central Park is one of the largest green spaces in the New York City area. With more than 800 acres and lots of things to do and see, you'll have to visit more than once to take everything in. Going to Central Park is a great way to relieve some stress and escape the constant movement of the city. Urban life is always exciting, but it can be stressful. Doing any activity at the park is just what you need to relax.