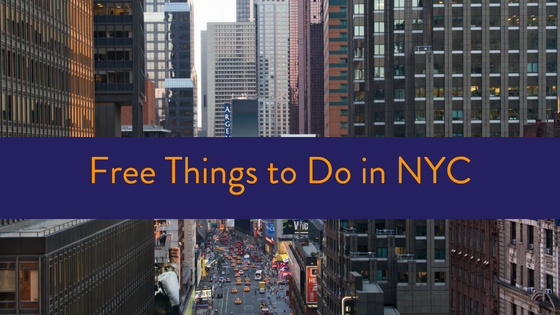 New York City is a notoriously expensive place to visit and to live. However, you don't need to spend a lot of money to have a good time in the Big Apple. From the many public parks to museums that offer specific times where they waive entry fees, there are lots of free things to do in New York City.
New York City has more than 1700 parks, most of which are public — meaning they're always free to visit. Choose one, then have a picnic, take a walk or ride your bike on a sunny afternoon. Spending a day at the park is a great way to get away from the fast-paced streets of the city. Here are a few to check out:
Central Park: As New York City's most famous green space, Central Park has many attractions and activities. You can attend free concerts in the summer, take a walk around the reservoir and play volleyball near Sheep Meadow.
Brooklyn Bridge Park: Brooklyn Bridge Park is unique because it does not have the sprawling green spaces like other parks in the city. Instead, it celebrates its urban setting. When you visit this park, you'll be able to enjoy the Brooklyn waterfront and see beautiful views of Manhattan.
Prospect Park: Like Central Park, Prospect Park is primarily made up of green space. However, unlike Central Park, you can walk through shaded wetlands, as well. Prospect Park also has a few sports facilities and an ice rink.
If you're having a hard time finding attractions with free admission, there's an alternative — many places and organizations offer tours for no charge. Check out some of these options for a zero-cost excursion:
Central Park Conservancy: The Central Park Conservancy is an organization that helps to maintain Central Park. If you don't know what to see first in the massive green space, they can help you. They offer several different routes depending on the season, so there's always something new to experience. You could tour the formal Conservatory Garden, the Bethesda Terrace and Harlem Meer, for example.
Grand Central Partnership: Grand Central Station is much more than a transportation hub. The station has a long history and many features that most people don't know about. The Grand Central Partnership's local urban historians will walk you through the landmark on a unique 90-minute adventure.
The High Line: Possibly one of New York City's most unique places, The High Line is elevated above street level on an old rail line. You will learn about the history of the extraordinary park and see its exciting features on this hour-long tour.
Visiting New York City with a limited budget is easier than you might think. Yes, you could easily spend a lot of money and have a great time, but you don't have to. There are so many free attractions that you certainly won't run out of things to do — even if you do run out of cash.
Leave a comment below to share what your favorite zero-cost activities in NYC are!