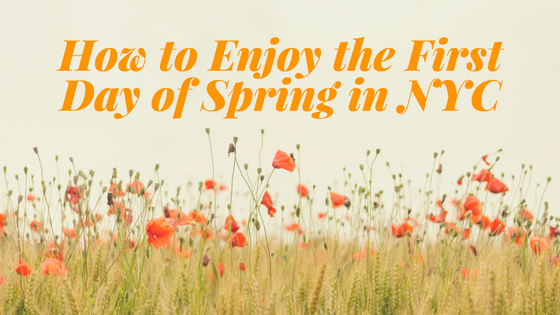 March 20th is the first day of spring! Here are some unique ways to enjoy the lovely occasion!
If It's a Beautiful Spring Day, Get Outside
Start getting your exercise outside the gym. Take a bike ride in the park, shoot some hoops or play catch. Another idea to enjoy the sweet sunshine might be to build and fly a kite. Take the kids to the park to climb on the monkey bars and swing on the swings.
Check out the 15th Annual Orchid Show at the Botanical Gardens. This year's theme is Thailand, featuring an original Thai pavilion adorned with hundreds of plants creating a stunning floral display. On select nights, there are even performances and live music.
Take a sail around New York Harbor on the historic Shearwater at the North Cove Marina. Enjoy complimentary wine tasting while you see spectacular views of the Statue of Liberty, Brooklyn Bridge and Governors Island.
If the Weather Is Not Cooperating, You Can Still Have Fun
Start some spring-cleaning so when the weather gets warmer you can fully enjoy being outdoors. Clean out and organize your cupboards and garage. Donate unused and unwanted items to charity.
If it's too cold to enjoy warm-weather activities, plan them instead. Plan your garden or a day trip for your family. You can also start planning your summer vacation or a picnic on the first warm day. Just planning and thinking about the fun-in-the-sun things ahead are good ways to enjoy the first day of spring.
Bring spring indoors. A beautiful bouquet of fresh flowers will instantly put spring in the air. Fill a dish with jellybeans in anticipation of Easter. Look at some spring crafts or décor in a magazine for inspiration.
Whether the forecast for March 20 is rain, sun or even snow, spring will be here soon. Find some way to bid farewell to winter and hello to the arrival of warmer weather.