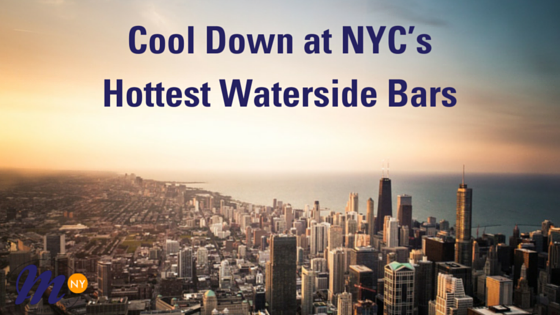 You know those world-famous landmarks — the Statue of Liberty, the Brooklyn Bridge and Battery Park, but did you know they all have one thing in common? Water is in their backyard. New York is home to many of the world's best restaurants, cultural attractions and professional sports teams, but it's also got killer views — and loads of them are on the water. Here's where you can give yourself a slice of the Hamptons without leaving town.
Grand Banks
What says summer more than boating, fresh oysters and beer? Nothing that we can think of. Quaff your favorite adult bevvie aboard the Sherman Zwicker, the "historic wooden schooner" that's resting in the Hudson River and home to Grand Banks. The restaurant/bar says the oyster barges of the 1700s and 1800s inspired the idea, where "wild-caught" and "sustainably harvested East and West Coast oysters" play an outsized role.
The winner of countless awards — including Best Oyster Bar in NYC (The New York Observer) and Best Outdoor Dining in NYC (The Village Voice) — Grand Banks is a go-to for date night and for impressing visiting family.
Fornino
Manhattan is always a destination, but Brooklyn is so much more than hipsters. Make a night of it and walk over the Brooklyn Bridge into Brooklyn Heights, where you'll wander by charming brownstones while smelling the aroma of what many consider the best pizza in NYC. Fornino offers unparalleled views of lower Manhattan from its Brooklyn Heights perch, plus relaxed outdoor seating and amazing sunsets, night after night. Sit on the rooftop and order pizza for the real deal experience.
Frying Pan
No best-of list that pertains to waterfront anything is complete without Pier 66 at Frying Pan. This "historic floating lighthouse" is perpetually packed and only open during the summer months — as well as a little bit beyond (check out Oktoberfest for a fun twist on waterfront dining). Choose from small plates or full-size dinners as you take in the sights of lower Manhattan and New Jersey from Hudson River Park at West 26th St.
La Marina
The Manhattan neighborhoods north of the George Washington Bridge offer absolutely exceptional views, gorgeous prewar architecture and a relaxed atmosphere that's more downtown than midtown. You'll love La Marina, located near the Cloisters and offering unparalleled views of the GWB and the Palisades Parkway region of New Jersey (that means more trees and less traffic). Did we mention there is a sandy beach? There is. Chill with a cold cocktail and your toes in the sand — and ask yourself why you don't venture north of 96th Street more often.
Penthouse 808
There's nothing like a twilight view of midtown Manhattan to make you revel in the greatest city in the world. Penthouse 808 offers cheap margaritas, half-price sushi on Monday nights and amazing sunsets just about every day of the week.
Johnny's Reef Restaurant
Many lifelong New Yorkers have never been to City Island, the Bronx enclave that's unlike any place else in town. Spend the day wandering among the distinctive City Island community — natives insist you're not a local unless you were born on the Island, no exceptions — and bring cash, because Johnny's Reef Restaurant, in business since 1950, is the place to go. Picnic-table seating and counter service perfectly reflect the laid-back vibe of City Island that's woefully lacking elsewhere in the Big Apple.
Happy dining!