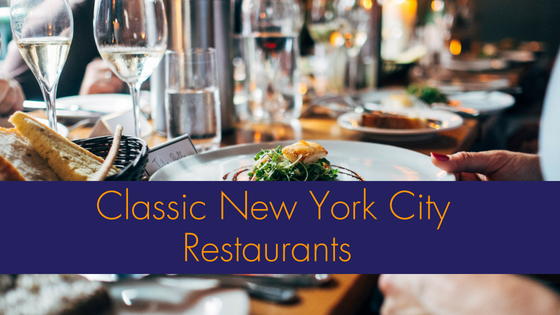 Classic New York City Restaurants
When you live in a metropolis like New York City, one thing you probably never complain about is the food. No matter what you're in the mood for, you can find it close by. Whether you're craving a Cubano or a great steak, a homey diner or a swanky place that only follows the latest culinary trends, you can find it all in the Big Apple.
Many of these restaurants have been open for more than 100 years. Here are a few classic spots we believe are some of the best places to eat in New York City:
Delmonico's Bar & Grill: This eatery claims to be "America's First Restaurant." Whether it was first or not, it has some of the best steaks in the city. It's credited with creating the Delmonico-style steak and also claims to have invented the baked Alaska dessert.
Lombardi's Coal Oven Pizza: Whether you're a native or a tourist, you have to enjoy New York-style pizza while you're in the city. Lombardi's Coal Oven Pizza was the first pizzeria in the city — and possibly in the entire country.
Zabar's: This spot in the Upper West Side is both a market and eatery. Browse through their large selection of cheeses, baked goods and bread, seafood and deli meats. Once your mouth is watering enough — it probably won't be long — you can sit down and grab a bite. They have all the classics of a Jewish deli, along with fluffy pastries and other sweets.
The Monkey Bar: This restaurant opened around the time of Prohibition. Today, you'll dine on tasty entrees and desserts paired with a great wine or cocktail. The Monkey Bar is unique and known for its creative murals from Ed Sorel, which depict icons of the Jazz Age.
Great N.Y. Noodletown: The youngest restaurant on the list, Great N.Y. Noodletown opened in 1981 and is now one of the most popular restaurants in Chinatown. You're sure to love whatever authentic Chinese cuisine that you order here. It's a favorite among NYC residents because of its price and hours. It's inexpensive —yet unwaveringly delicious — and open from 9 a.m. to 4 a.m., so if you're craving Chinese in the middle of the night, you can still get it.
Barbetta: This Hell's Kitchen Italian restaurant has been owned and operated by the same family since 1906. The fantastic food is one thing that draws you in, but the seating options are another. They have a beautiful garden in the back that lets patrons enjoy a relaxing al fresco dining experience during the warm months. They also claim to be the first New York restaurant to serve several dishes, like tiramisu and risotto.
These established restaurants offer a variety of options, from higher-end dining to more casual, inexpensive choices. Let us know if you've visited these eateries — or if you have any additional suggestions — in the comments below!