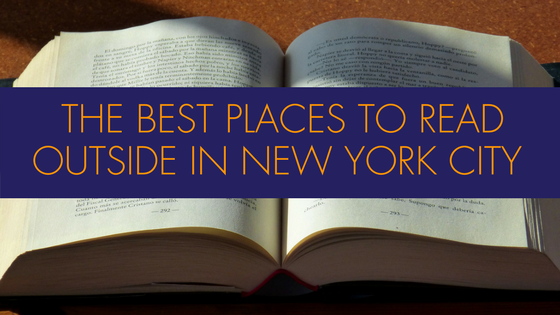 Is there anything better than curling up in an oversized, over-stuffed chair with a good book? In the summer there sure is — reading a great book outside in New York City. While reading outdoors is something many New Yorkers look forward to this time of year, it's often challenging to find that perfect spot to pour through a gripping crime novel, a tell-all autobiography or a love story you never want to end.
Great Outdoor Reading Spots
Although finding a place to read outdoors in New York is difficult, it's certainly not impossible. Whether you're looking for a gorgeous backdrop, a space that's relatively quiet or both, there is a place for you to read outside in comfort within the boundaries of New York City.
Here are some great spots for you to check out if you want to read outdoors in NYC:
• Fort Tilden Beach: Located on Rockaway Peninsula in Queens, NY, Fort Tilden is now part of the Gateway National Recreation Area. This beach has a mix of decommissioned military buildings and reclaimed natural areas.
Fort Tilden Beach is one of the most pristine, breathtaking beaches in New York State. If you want a break from your book or you finish your read earlier than expected, you can take a walk along one of the site's trails, check out an art exhibition at the Rockaway Artist Alliance or catch a show by the Rockaway Theatre Company at Post Theater.
• Franklin D. Roosevelt Four Freedoms Park: Spanning four acres at the tip of Roosevelt Island, Franklin D. Roosevelt Four Freedoms Park was designed by famed architect, Louis Kahn. This park has an unmistakable naval theme, and the park itself represents a prow with Roosevelt Island being the related boat. Then President Roosevelt delivered what's become known as the "Four Freedoms" speech on January 6, 1941, and this park is a testament to his powerful words regarding human rights as well as his enduring legacy.
The park is closed on Tuesdays, but it's open from 9am until 7pm every other day of the week. While it's a popular attraction, the park doesn't see an exorbitant amount of traffic, which makes it a fantastic spot for outdoor reading.
• Wave Hill Estate: Located on the edge of Riverdale, the Wave Hill Estate is a public garden and cultural center that sprawls over 28 acres in the Bronx. The Wave Hill Estate was created to preserve the estate's magnificent views, celebrate the artistry of the property's gardens and landscaping and explore the connections that people have with nature in various ways.
Even though it offers spectacular views and a resplendent setting, the Wave Hill Estate doesn't attract enough visitors to distract you from your reading. The Wave Hill Estate is simply the perfect place to read your next favorite book in an idyllic, peaceful setting.
Mitchell's NY: We Deliver
Of course, you don't have to be a bookworm to enjoy reading outdoors in New York City. The Big Apple is also a great place to read the daily newspaper or the latest edition of your favorite magazine — and Mitchell'sNY is the perfect place to order the periodicals you love and have them delivered right to your door.
At Mitchell'sNY, we offer a full menu of magazines you'll enjoy reading in any location in New York City. Look over our selection of magazines and contact us to place a one-time, short-term, or long-term delivery of any of our products today.