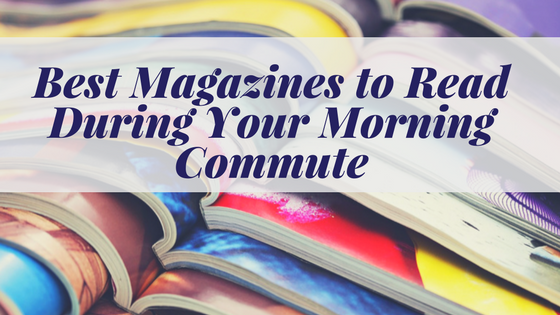 Spending your commute time reading a magazine is a great way to start your day. Most of us wouldn't take the time to sit down at home and read a magazine cover to cover, because there's just too many other things that need to get done. So why not turn your commute time into personal time with magazines specific to your interests?
For the Foodie
Looking for a new recipe or cooking tips to simplify meal planning? Here are some favorites:
Bon Appetit
Cooking Light
Food & Wine
Saveur
World Travelers and Family Vacationers
Whether you're planning a once-in-a-lifetime exotic adventure or a vacation with the kids, these magazines will stimulate your wanderlust:
National Geographic Traveler
Cruise Travel
Travel & Leisure
Budget Travel
Fashionistas Gather Here
Find all the latest fashion trends to fit your personal style. From chic to vintage and sporty to sophisticated, these publications have you covered:
Harper's Bazaar
Marie Claire
Elle
Glamour
Vogue
Car Enthusiasts
Do you love to go to car shows? Are you interested in the latest designs and hottest cars? Reading these magazines will really get your motor running:
Car & Driver
Hemmings Classic Car
Muscle Car Review
Automobile Buyers Guide
Business Movers and Shakers
Are you passionate about following the current business trends? These reads will keep you in the know:
Fortune
Bloomberg Business Week
Money
The Economist
Green Thumb Gardeners
Do you love to grow flowers, vegetables and herbs? Do you see landscaping designs as an art form? These magazines were written for you:
Garden Design
Better Homes & Gardens
Herb Companion
Flower Magazine
Horticulture
Whether you're looking for a new recipe, a vacation destination, a great pair of pumps, a classic car, investment trends or want to plant an herb garden on your windowsill, Mitchell's NY can deliver the perfect magazines to your door. See why New Yorkers have counted on us since 1946 as the preferred source of information on demand.