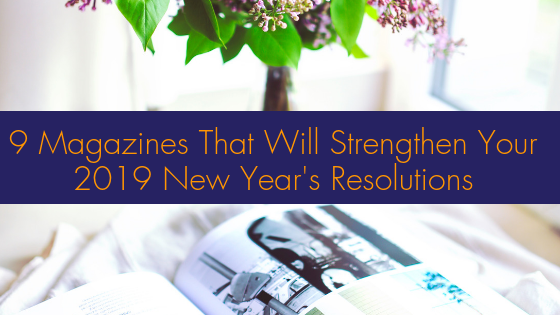 2018 has flown by, and the time has come again to start thinking about your New Year's resolutions.
It's no secret that common resolutions like eating healthy, exercising or losing weight are easier said than done. What if we told you that Mitchell'sNY could help you stick to your resolution with our magazine delivery service?
Ring in your best life in 2019 by signing up for a monthly delivery of healthy lifestyle magazines that match your goals. In case you need some inspiration, we've created a list of nine healthy magazines that will help you commit to your New Year's resolutions.
1. Health
Health is an all-inclusive fitness magazine for anyone and everyone. It's the perfect complement for that New Year's resolution centered on living a productive, healthy, active and engaged lifestyle.
2. Psychology Today
This is the preeminent magazine for everything mental-health related. Psychology Today illuminates trends, findings, studies and information that explain how we behave and think. It's an ideal publication for resolutions focusing on improved mental health.
3. Eating Well
Eating healthy does not mean sacrificing taste! The editors of this magazine, provide good-for-you recipes that please the taste buds.
4. Runner's World
Will 2019 be the year you decide to start a running routine? If yes, then Runner's World will provide all the techniques, reviews, events, tips and motivation you'll need to be successful.
5. Self
This one is for women who want to be their best self. Self showcases new makeup looks, workout ideas, healthy-eating tips, and other positively empowering trends.
6. Prevention Magazine
Touted as one of the leading health magazines in the world, Prevention not only focuses on nutrition but also workouts and advice, taking a holistic approach to health.
7. Women's Health
This healthy lifestyle magazine is for all the strong women planning on committing to their health in 2019. Women's Health magazine speaks directly to the practical, empowered and modern woman. It dives deep into the fitness trends, concerns and discoveries that impact today's intelligent, independent and inspiring women.
8. Muscle & Fitness
This magazine is a powerful support tool for men aiming to build muscle and enhance their workouts. Muscle & Fitness includes expert bodybuilding advice, supplement reviews and dietary plan suggestions.
9. Better Homes & Gardens
Not only does this magazine provide satiating recipes, but also gardening tips. Read about how to hone your green thumb and grow hearty vegetables for your next tasty (and healthy) stew!
Ready to Kick Off Your Healthy New Year's Resolutions?
If you're inspired to start 2019 strong with a magazine that will support your New Year's resolution, Mitchell'sNY has good news! Our monthly delivery program offers all the above magazines — plus 10,000 more. Place your order today and get ready to crush those resolutions.