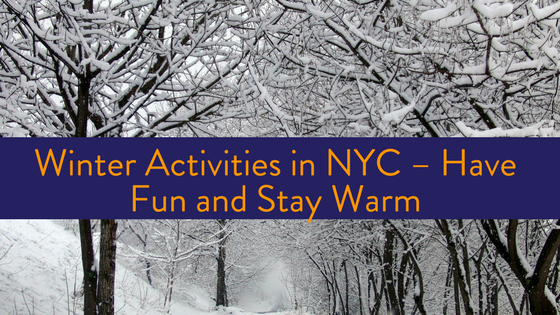 New York has long been known as the city that never sleeps for good reasons. Even when the temperature dips well below freezing and the wind howls between the city's skyscrapers, New York is alive with all sorts of activities. From winter festivals, live shows, shopping, ice skating, dog shows, public parks and a plethora of restaurants and bars, NYC has plenty to keep everyone entertained throughout the year's coldest season.
Can't-Miss Winter Activities in the Big Apple
While you have an abundance of things to choose from when you're looking for something to do in New York City during the winter, certain activities stand out. Here are some of the can't-miss activities you should check out regardless of whether you're a New York City resident or you're just in town for a visit:
Go Ice Skating at Bryant Park: Bryant Park is the home of a 17,000-square-foot outdoor ice skating rink. You can skate there for free if you have your own skates. If you need to rent a pair of skates, you can do so for a nominal fee. When you take a break from the ice, you can snag a snack and a warm beverage at one of the kiosks surrounding the rink or you can enjoy a full dinner and some adult beverages at Public Fare, the park's rink-side eatery.
Take a Wine Tasting Class: While you may know that white wine goes with certain dishes while red pairs better with others, you might not know the best wines to pair with dishes commonly served in cold weather. You can learn all about winter wines and which ones to serve with what by taking a wine tasting class at Brooklyn Winery.
Go Shopping: New York City is where you can find world-renowned retailers like Prada located right next to specialty stores such as H&M. For a shopping experience you simply can't enjoy anywhere else, grab your wallet and hit the streets of SoHo, lower Manhattan, the lower East Side, Nolita, Uptown, the East Village or Greenwich Village to shop to your heart's delight. No matter which direction you head in when you step out your door, you won't be disappointed with the shopping choices that await.
Savor a Steak at Old Homestead: A long-time staple in New York City, Old Homestead is the restaurant that introduced hungry diners in the Big Apple to Wagyu beef. It's also where you'll find one of the best steaks you'll ever taste.
Enjoy the Peace: Sometimes, it's a good idea just to stay in and enjoy the peace and quiet. While it's fun to be a part of the city's hustle and bustle, there's nothing like relaxing at home or in your hotel room overlooking the city. If that's your plan, you can have Mitchell'sNY deliver newspapers, magazines, pastries and beverages right to your doorstep. Contact Mitchell'sNY to schedule a delivery now.