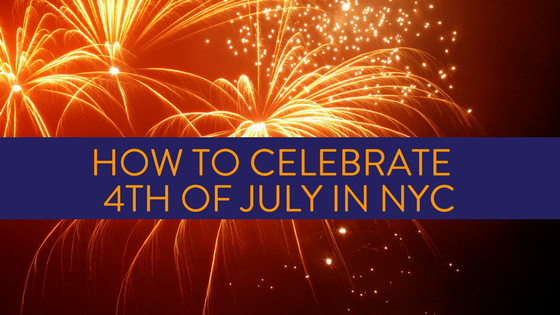 How to Celebrate 4th of July in NYC
While Memorial Day is widely recognized as the unofficial start of summer, the 4th of July is much more than a celebration of the arrival of warmer temperatures and longer days. It's the ultimate celebration of our nation's birth and everything Americana.
And there is no better place to celebrate the birth of the United States than New York City.
Things to Do and See on July 4th, 2017
Although many people instantly think of nighttime fireworks when the 4th of July comes to mind, the celebration in the Big Apple starts long before the fuse is lit on the first firework. From entertaining shows to eating contests to parades and more, there's plenty to do throughout NYC before you wrap up a full day of fun with the Macy's Fourth of July Fireworks display over the East River.
Here are just a few of the things you'll want to check out as you celebrate the 4th of July this year:
Nathan's Famous Hot Dog Eating Contest: Overeating is nothing new for many Americans on the Fourth of July — there's plenty of food readily available at just about every turn, after all — but this contest takes it to a whole other level.
An annual event for more than 100 years, this contest brings together some of the most talented, fastest eaters in the world to see who can eat the most Nathan's Famous Hot Dogs in just ten minutes. Will someone break the record of 68 wieners this year? You'll have to head to Coney Island, NY or tune in to watch this fun-filled event on ESPN to find out.
Travis Parade: Travis, a village located on Long Island, has been around since the days before the Declaration of Independence was signed centuries ago. The Travis Parade was first held in 1911 and is the oldest, continuously-held 4th of July parade in the United States.
This hometown parade is a great event that proudly features local marching bands, homemade floats and plenty of American flags. Newcomers are always welcome to join the festivities and watch the Travis Parade alongside village residents.
Wasabassco's Big Burlesque Fourth of July Celebration: Be sure you drop the kids off with a sitter before you head out to catch the Wasabassco's Big Burlesque 4th of July Celebration.
Headliners participating in this scintillating performance include Nasty Canasta, Sydni Deveraux, Puss-N-Boots and Amanda Whip. This sexy show includes dancing, juggling and a show-ending view of fireworks at City Winery's open-air area.
Macy's Fourth of July Fireworks: This pyrotechnic display begins at 9:25 p.m. on the Fourth of July. Macy's will use several barges to explode over 60,000 fireworks between 24th and 41st Streets along the East River.
The 30-minute show will be choreographed with patriotic songs that celebrate the United States and remind us all why it's great to be an American.
Mitchell'sNY
Since 1946, we've been helping people kick off their Fourth of July celebrations with a delivery of the publications they're eager to read. You can even order beverages and pastries, and we'll deliver them along with your newspapers and magazines right to your door. Give us a call to place your 4th of July order or set up a regular delivery schedule today. And, don't forget, we can arrange for one-time, short-term and/or long-term delivery of any of our products!